Madrid Spain, 11th December 2019
Pakistan's Ecosystem Restoration Fund was successfully launched at COP25 in Madrid today by the Advisor to the PM on Climate Change, Malik Amin Aslam who is heading Pakistan's delegation to the UN climate conference.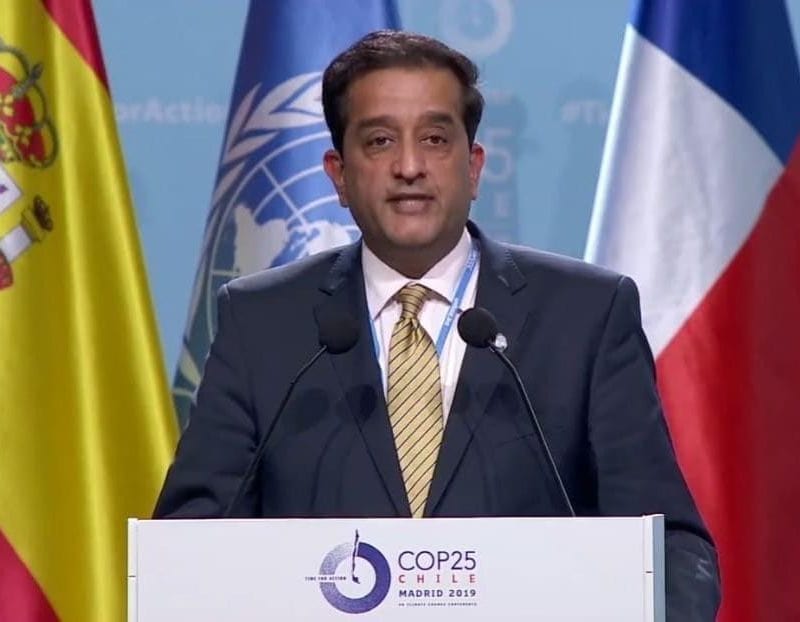 11 DEC, 2019: LAUNCH OF PAKISTAN'S ECOSYSTEM RESTORATION FUND AT COP25, MADRID, SPAIN
The theme for this COP is "Time for Action" and Pakistan showed on a global stage that it is serious about pursuing ecosystem restoration to address climate change challenges in the country.
Pakistan's unique landmass which ranges from its high mountains down to the Arabian Sea at a steep incline makes the country extremely diverse and vulnerable to flooding from glacial melt combined with monsoon rain in the summer months.
The ambitious Ecosystem Restoration Fund (ESRF) would effectively manage its water resources and address this vulnerability while steering the country onto a more sustainable pathway. The ESRF is essentially a nature-based adaptation initiative with 6 thematic areas:
1.        Afforestation
2.        Recharge Pakistan – Integrated water management
3.        Conserving Biodiversity & Mitigating Land Degradation
4.        Conserving Marine Life & Promoting Blue Economy
5.        Promoting Eco-Tourism
6.        Electric Vehicles
The ESRF has been placed within the National Disaster Risk Management Fund where General Nadeem Ahmad is the CEO of the fund, which will allow Pakistan to align itself with the global climate change agenda. Martin Frick, the Senior Director for Policy and Program Coordination at the UNFCCC and Pablo Vieira, the Global Director of the NDC Partnership Support Unit, was also invited to be panelists at the launch ceremony held at the NDC pavilion at the COP. Pakistan's ambassador to Spain, Khayyam Akbar, also joined the panelists.
Both Martin Frick and Pablo Vieira appreciated Pakistan's efforts in pursuing ambitious climate and development actions and assured the Advisor that Pakistan would find the international support needed for the fund.